Our former magician students in the world of events
Nos anciens élèves, formés par notre école de magie, poursuivent leurs chemins dans le monde de la magie en tant que Professional Magicians ! We are proud of them and this section is therefore dedicated to them.
Whether in events, on stage or at festivals, they are everywhere! They spread joy through their magical art and wonder among their viewers.
We continue to follow them on a daily basis in their professional career as a magician thanks to social networks. Here is, for this 1st article, a summary of the achievements of our students in the world of events. Christmas markets, corporate events, private parties or weddings, they used their learning acquired during their magic training in the school of Double Fond Formation to dazzle their customers.
Students who have become magicians, illusionists or magicians for children
Pour l'événementiel, on y retrouve principalement la magie de close-up. La magie rapprochée est une magie exécutée dans un cadre intime, généralement à moins de 3 mètres de son public et est généralement exécutée avec des convives, assis à une table. Pour cela, nos élèves ont reçu l'enseignement de nos experts dans le domaine : Alexandra & Dominique Duvivier, President. Spécialisés dans la magie des cartes et en close-up, ils ont partagé et transmis, à nos students who have become magicians, their techniques and know-how acquired over the years.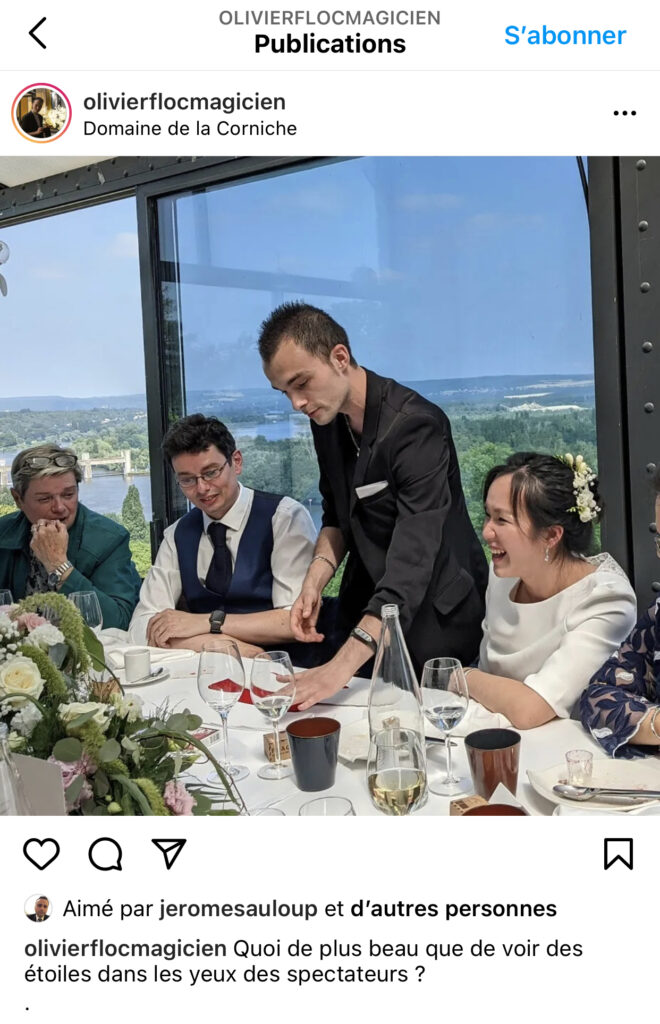 Want to learn magic with us ?
Our magic school in Paris, the Double Fond Formation magic school, is open to everyone. Amateurs, professionals, we open our doors to you and pass on our passion and knowledge. Diploma certification 550 hours, short magic courses : from 10 hours to 80 hours, face-to-face or remotely, the choice is yours! You want to know more ? Do not hesitate to contact us contact us. or visit our other magical pages :