School of magic in Paris, learning excellence Cours, formation et certification professionnelle de magie
Double Fond Formation is a magic school located in Paris, in the district of the 4th arrondissement, in the heart of the Saint Paul district and the Marais.
This school of magic, created by Alexandra and Dominique Duvivier, professional magicians from father to daughter, offers magic lessons for adults, magic training and refresher courses.
This school is unique in the world since it delivers a diploma to become a professional magician, recognized by the French Ministry of Labour.
Online magic training, face-to-face magic lessons, but also certifying magic training and obtaining a unique magic diploma in France, the Double Fond school has not finished surprising you.
Magic lessons in Paris (75004), Double Fond Formation school
Our magic class are open to adults. Simple amateur or professional magician, our magic training allow you to perform in your art and satisfy your passion. If you want
If you want become a professional magician, we give you the full opportunity. You have the possibility to come and take your magic lessons in Paris or to contact us if you wish to follow an online magic training.
Our magic class come in several forms :
10-hour magic class ;
20-hour magic class ;
40-hour magic class ;
80-hour magic class ;
Our school of magic in Paris offers quality training supervised by professional magicians. They allow you to learn the intricacies of magic and the art of performing it.
Close-up, card tricks, coin magic, illusion art or magic for children, our trainers and Professional Magicians ! help you to perform in your art and specialties.
Our certified magic trainings
If you want to follow one of our magic training, we offer diploma courses, with validation of your professional experience and the possibility of financing via the CPF.
Pour le cursus diplômant (550 heures), notre formation se déroule sur 10 mois avec 14h par semaine les lundis et mardis (sauf cas exceptionnels) de septembre à juin, soit pendant 39 semaines. Examen final devant le jury fin juin.
For more information, do not hesitate to contact us or come and see us at our school :
1 Pl. du Marché Sainte-Catherine, 75004 Paris
Short magic courses : from 10 hours to 80 hours
For the short magic courses, our educational team is at your disposal. We study together a tailor-made schedule according to your geographical distance and your availability (to be coordinated with those of our trainers).
You follow and have an à la carte rhythm. Your magic hours and lessons can be either grouped in a minimum of time (35 hours per week) or spread over a longer period (for example a few hours per week).

Discover our magic school in Paris (75004)
Would you like to join us in the capital to take one of our courses? magic class ?
Our school of magic is located in the 4th arrondissement of Paris, near the Place de la Bastille, in the Saint Paul district.
La Place des Vosges est à 400 mètres. Si vous êtes en voiture, le parking Indigo Paris Mont Marie est à 650 mètres via Rue de Rivoli et Rue de l'Hôtel de Ville.
Finally, we are ideally served by buses and the metro (Saint Paul metro station). Saint Paul bus station is 110 meters from our school. Magic, right ?
Finally, our school is 6.9 kilometers from the Eiffel Tower and the Champs Élysées. Magic, right?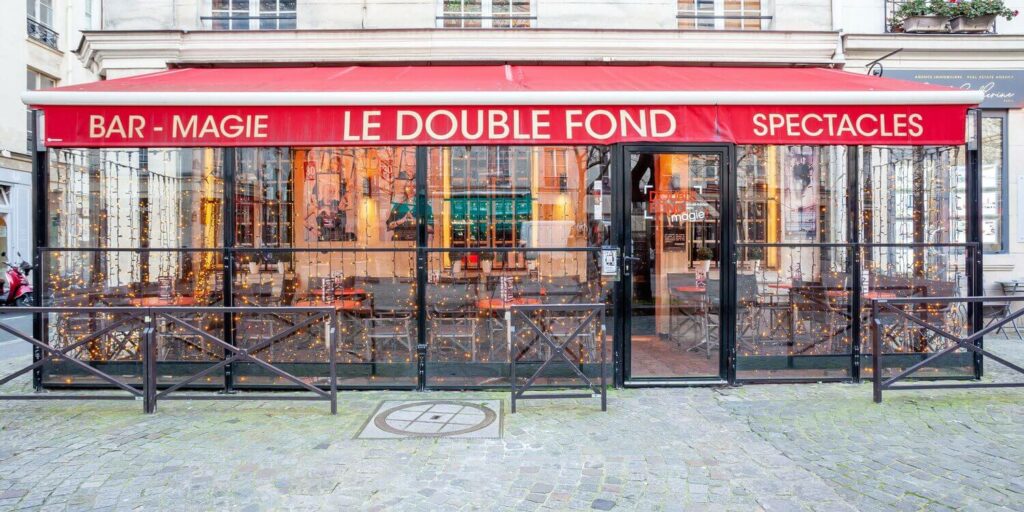 Card tricks, close-ups, coin magic and the art of illusion, Paris, a magical city !
Magic is a real passion that can amuse children and amaze adults. Magic tricks are one of the most popular shows just as they are also one of the most difficult to perform.
Card tricks, close-up, coin tricks, mentalism, staging a show and magic for children, our courses are à la carte, adapted according to your specialties and your level.
At the end of your magic training, you will have all the cards in hand to to become a magician amaze your viewers.
Learn from the best French magicians
Our magic and illusions lessons are of high quality, with recognized and experienced professional magicians : Alexandra Duvivier, Dominique Duvivier, Philippe de Perthuis, Benoît Rosemont are experts in pedagogy and each specialized in specific areas of the magic art: card tricks, mentalism, children's magic, coin tricks and show magic will be your daily activities.
Magic and school, learn to practice your talent as a magician
As a student, regardless of your age and level of training, our courses will allow you to learn how to to become a magician.
. You will become the master of the show by learning various tricks with cards, coins, cups, strings, dice, tickets, scarves. Judiciously staged, wonder will be there and your audience won over.
Become a magician of French excellence
Standing out is essential to stand out in a sector as competitive as that of the provision of artistic services. So how do you differentiate yourself? How to attract an ever larger and more loyal audience? How to appear well in the media? How to be famous while remaining discreet? If you come to our
If you come to our our magic school in Paris, vous pourrez poser toutes ces questions à notre responsable pédagogique : Adeline Galland
Finally, by getting our magician diploma. or by diligently following magic courses, you will belong to the great family of magicians.
Our students, who have become magicians, now fly on their own. Check out our article : What happened to our student magicians ?
Double Fond : a magical spirit
Our magic and illusion courses are designed by entertainment professionals and adapt to your training request.
We offer a unique and innovative formula that favors the practice of magic tricks in a spirit of magic and creativity.
Learn self-discipline, listening, concentration and self-confidence, our courses are all the more interesting as they can be set up at any age. Becoming a magician is within your reach in our magic school in Paris.
Becoming a magician is within your reach at our magic school in Paris.
Diplôme de magie bac + 2

Benoît GUIRAUD
14. Novembre, 2022.
Un lieu unique et un accueil...magique! Des formateurs talentueux et pédagogues; bref, une équipe au top qui m' a aidé à progresser et à élargir mes connaissances en matière de prestidigitation. Je recommande totalement cette formation unique...et j'ai déjà hâte de continuer! Benoît Guiraud
Anne DEPRAS
11. Novembre, 2022.
Equipe de magiciens très sympathique, qui transmet son savoir dans la bonne humeur.
Charles
8. Novembre, 2022.
Des moments magiques avec des professionnels qui savent adapter leurs cours à tous les niveaux... A faire pour tous les amoureux de la magie
cousinVic
17. Octobre, 2022.
Super formation, très bons instructeurs à l'écoute et disponibles.
Marylou G
13. Septembre, 2022.
Je recommanderais certainement cette école de magie à toute personne intéressée à apprendre les secrets de la magie. Jean-Pierre Crispon est un excellent pédagogue, les explications sont faciles à suivre et on a le temps de comprendre. C'était un plaisir d'y assister. Un bel endroit insolite pour prendre un verre alors n'hésitez pas allez-y.
Louis-Jérôme TEXIER
10. Septembre, 2022.
Excellente ambiance, et surtout très bonne pédagogie. Equipe de formateurs très attentifs, bienveillants, mais qui s'assurent que les objectifs sont atteints. En résumé, de très bons moments et de très bons résultats ! Je recommande.
Yves Dauteuille
9. Septembre, 2022.
Tant qu'à apprendre la magie (c'était mon rêve depuis longtemps), autant le faire avec les meilleurs, et dans un lieu unique ! Le Double Fond, c'est une équipe de professionnels qui ont su donner une âme à un lieu complètement dédié à la cet art (sur une place parisienne pleine de charme, de surcroît !). C'est l'occasion bien sûr d'approcher des virtuoses, mais surtout de profiter d'une pédagogie intelligente, vivante, partagée. Vous y découvrirez l'importance capitale de l'interprétation, les ressorts psychologiques et théâtraux de cet art, et tout cela par des exercices pratiques. Si vous avez encore des doutes pour vous lancer, soyez magicien : faites disparaître vos hésitations !
Bertrand Guibert
26. Juillet, 2022.
La formation de 80 heures que j'ai suivie au Double Fond pour m'initier à la magie a été exceptionnelle : Adeline Galland m'a concocté un programme sur mesure et les formateurs que j'ai rencontrés sont talentueux, pédagogues et passionnés. Encore un grand merci à toute l'équipe !
Alain Briffaut
24. Juillet, 2022.
Expérience vraiment sympa et originale ! Apprendre à réaliser des tours au contact de professionnels de la magie et savoir les refaire avec ses proches ! Apprendre l'importance des détails qui changent vraiment tout ! Découvrir les difficultés du métier de magicien. Passer de bons moments sans prétention. N'hésitez surtout pas !
sandrine gaspar
23. Juillet, 2022.
Une équipe de pro à couper le souffle On ne sort pas indemne d une telle expérience Cette école vous propulse dans votre destinée ❤️❤️❤️ Mon fils a eu son diplôme en juin 2022 à il a à peine 18 ans Il a créé son propre spectacle et commence à se lancer C est une partie de son rêve qui se dessine grâce à cette école Merci à Alexandra Duvivier Adeline Galland et à tout ceux qui ont cru en lui ❤️❤️❤️



Why choose our magic school in France?




Make your dreams come true with the Double Fond Formation magic school. Do not hesitate to


Do not hesitate to contact us contact us. to learn more.